cultura radio azul web


ensayos nov - dic From power project

21 noviembre
19:30hrs nota desde la emisora de la ciudad azul a alejandro miniaci acerca de sus dos albumes declarados de interes cultural escritos hacia la vida y obra del arq ing francisco salamone video nota internet radio azul:


02 noviembre from power project en vivo en san telmo






15 Octubre saldungaray ciudad 80 aniversario obras f. Salamone Projeccion clips #salamonemusic

09 septiembre Nueva Performance:FROM POWER PROJECT EN VIVO en El Vibora Bar C.A.B.A. (carlos regazzoni home)

7 SEPTIEMBRE 2018 TORRES ABIERTAS PALACIO MUNICIPAL CIUDAD DE LAPRIDA BS.AS. PROJECCCION SALAMONE MUSIC VIDEOS
12 agosto FROM POWER PROJECT EN VIVO en el vibora bar carlos reggazzoni instalaciones


22 JULIO GRABACION del NUEVO ALBUM FROM POWER PROJECT descending reality en "LOS ALTOS ESTUDIO" sesion de un dia
05 JULIO lanzamiento nuevo clip HYMN OF NOTHINGNESS (R3M1X VERSION) INNOVADOR visuals MIX SOUNDS AND EFFECTS

INNOVATE REMIX AUDIOVISUALS EFFECTS HD


05 junio Realizacion de dos nuevos extra videos
1 FRANCISCO SALAMONE ESPECIAL HOMENAJE oficial music : A.Miniaci
2 F. SALAMONE 2018 CRUZ DE CRUCES (Interference Portal de PIlar)
JUNIO mes FROM POWER PROJECT ENSAYOS
11 de mayo
#salamone music parte de Planeta Salamone muestra fotografica M. Merlo en el Museo Provincial de Bellas Artes Emilio Pettoruti La Plata Observatorio Audiovisual fondo musical seleccion albumes compuestos hacia la vida y obras de Francisco Salamone por A. Miniaci. promo video clip inagural.

febrero - marzo - abril: ensayos nuevos temas from power project proximas fechas en vivo! seran anunciadas
16 enero from power project sesion rehearsal en vivo en estudio

nuevos video clips en vivo en estudio FROM POWER PROJECT
________________

04 enero ensayo FROM video clips, fechas en vivo ,y nuevos temas para proximo album.FROM Power Project 2018 es:Pablo Tiscornia bateria percusion voz- Yamil Fernandez bajo voz -Alejandro Miniaci Voz ,Guitarra Loops , samplers, autor



_______________________________ 2017__________________________________
CALIFORNIA GUITAR TRIO FRAGMENTO NOTA MENCION ALEJANDRO MINIACI


31 DICIEMBRE LANZAMIENTO CAJA BOX SET 2CDS EDICION DE LUJO QUE REUNE LOS DOS RECIENTES ALBUMES SOLISTA
REAL SALAMONE MUSIC (DIC 2016) MEMENTO MEI (REAL SALAMONE MUSIC II -DIC 2017)

30 DICIEMBRE LANZAMIENTO ALBUM MEMENTO MEI REAL SALAMONE MUSIC II 5 TEMAS, REMASTERIZACION DEL SEGUNDO ALBUM MAS INTIMISTA DEDICADO A LA VIDA Y OBRA DEL ING ARQ FRANCISCO SALAMONE (ESTE TRABAJO TUVO UN PREVIEW EP QUE SE LANZO EL 5 DE JUNIO NATALICIO DE F.S.

29 DICIEMBRE NUEVO TEMA PARA PROX NUEVO ALBUM A PEDIDO DEL CENTRO CULTURAL SALAMONE BALCARCE PARA MEMENTO MEI (REAL SALAMONE MUSIC II)
PRIMER MONUMENTO (GHOST CIRCULAR EMBLEM) AUTOR INTERPRETE PRODUCCION A.MINIACI TRABAJO MUSICAL Y AUDIOVISUAL AGO - DIC 2017
FABIO RAVIDA EQUIPO IMAGENES EN 3D ANIMACIONES,FOTOGRAFIAS E HISTORIA Y A.MINIACI COMPILACION EDICION VIDEO
19 DICIEMBRE MUESTRA FOTOGRAFICA FRANCISCO SALAMONE EN ITALIA Via Veneto 7 Roma Casa Argentina en Roma
EMBAJADA ARGENTINA EN ROMA AMBIENTACION MUSICAL DEL EVENTO A DISTANCIA REAL SALAMONE MUSIC 2016 - MEMENTO MEI 2017 ALBUMES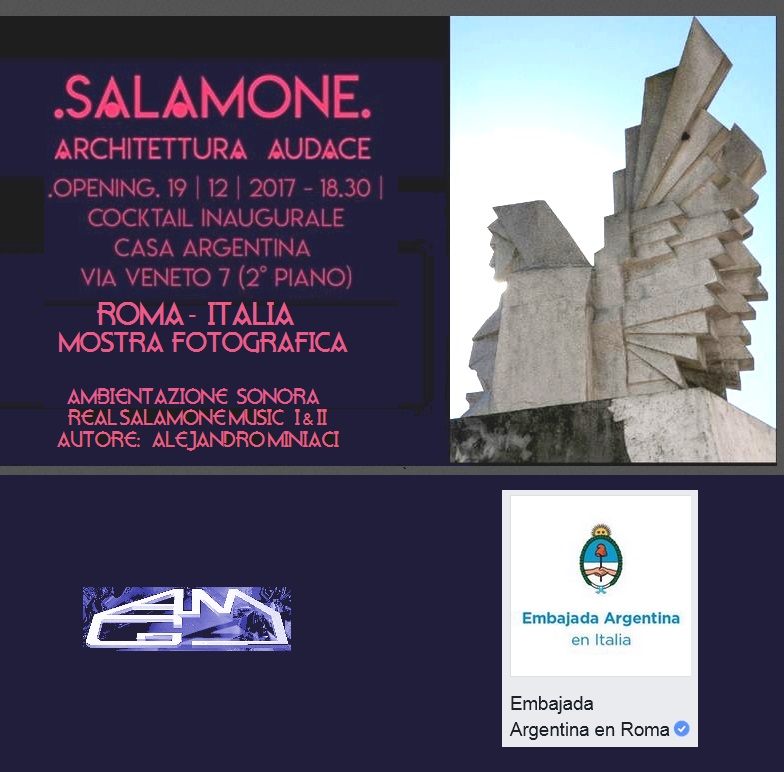 MES NOVIEMBRE FROM ENSAYOS Y TRABAJO PARALELO SOLISTA SALAMONE CD2 MEMENTO MEI EDITADO EN JUNIO
NUEVA RE EDICION ALBUM EXPANSION NUEVO TEMA EN TRES MOVIMIENTOS
MUSICA Y VIDEOS BOX SET SALAMONE 2 ALBUMES A SALIR A FINES DE DICIEMBRE 2017

7 de noviembre NUEVO FROM POWER PROJECT ENSAYOS FORMACION ESTABLE A ANUNCIAR PROXIMAMENTE

18 de octubre EL EXILIO DEL GENIO video HD SALAMONE MUSICA EN TV DIGITAL ARPEGGIO
e internet hd youtube arpeggio channel autor e interprete: Alejandro Miniaci: pieza clasica electrocacustica en honor al arq ing Francisco Salamone en la grilla de canal arpeggio tv digital
Arpeggio emite en estos canales:
Peru: Canal 8.2 HD Television Digital Terrestre (Andina)
Ecuador: Canal 21 UHF TV Cable Canal 66
Guatemala: Canal UHF 94 Costa Rica: Canal 46 UHF (Repretel)
Chile: Canal 2 VHF (Telecanal) Honduras: Canal 33


08 septiembre nueva galeria artistica saldungaray de fotos realizadas e intervenidas artisticamente por oficial salamone music multimedia

17 agosto honorable novedad agradecimiento acerca de recientes cds editados videoclips nuevos temas Salamone's Chronos and Memento Mei 2017 escrito por (ex guitarrista de genesis) Steve Hackett 17 Aug 2017: It's a clever video and interesting music.I wish you luck with your projects!
You're welcome to quote the words I used Wishing you luck with everything! Your own pieces on You Tube show a lot of innovation! I can tell you have talent and flair.Very best: Alejandro. Steve.

15 agosto 18hrs julio - agosto Reportaje telefonico en vivo a alejandro Miniaci radio fm programa subi que te llevo
acerca de los recientes cds multimedia editados
que representan musicalmente la obra de F Salamone.


22 julio 18hrs
performance en vivo salamone seleccion music en
CENTRO DE INTERPRETACION F. SALAMONE (SALDUNGARAY-TORNQUIST)
art gallery photos del concierto en vivo salamone music -memento mei

24 junio performance en vivo salamone seleccion music en el museo de arquitectura
-afiche *click sobre la imagen gif animacion:

junio repercusiones notas links acerca del nuevo 2do album memento mei (mes natalicio f salamone) y fecha en vivo de presentacion en el marq
link arqa web

link telam web

link fellinia web

art gallery photos del concierto en vivo salamone music -memento mei en el marq



5 junio NUEVO CD AMGL_________________________________
MEMENTO MEI primera VERSION EP lanzamiento al publico en el dia de su natalicio trabajo hacia la vida y obra del arq - ing: FRANCISCO SALAMONE

Semana del natalicio de francisco salamone homenajes en centros de interpretacion y culturales
principalmente en las locaciones de Laprida, Torquinst - Saldungaray , Las Varillas , Balcarce
se pasan clips audiovisuales de estos albumes conceptuales acerca del arquitecto : real salamone music 2016 y memento mei 2017
3 junio
nota para radio las varillas acerca del proximo segundo album con musica arquitectonica dedicado a f. salamone link nota:

22 mayo mencion del auiovisual salamone's chronos por GNOMON RELOJES MONUMENTALES empresa, oficial que restaura, repara, actualiza en este caso los relojes de las torres en los palacios municipales realizados proyectados por f salamone en diferentes locaciones y ha posteado el video oficial en su web site
primer tema del album memento mei - edicion clip - audiovisual, produccion autor e interprete: alejandro miniaci
"el musico del arquitecto " mencion en noticias tornquist nota por dos albumes real salamone music album 2016 / memento mei 2017

5 abril estreno avance nuevo tema y clip conceptual -Salamone's Chronos pieza que integra proximo album "memento mei" -real salamone music II - 2017 dedicado e inspirado en la vida y obra del arquitecto francisco salamone
SALAMONE CHRONOS VIDEO


18 marzo nuevo video version con full Salamone imagenes para la pieza "EL EXILIO DEL GENIO" estreno por el 18 y 19 de marzo "Dia de los Monumentos"

EXILIO DEL GENIO VERSION ALBUM SALAMONE

08 marzo comfirmacion de icomos argentina acerca de la declaracion de interes cultural hacia el primer album musical conceptual y multimedia compuesto hacia la obra
y la vida del arquitecto francisco salamone real salamone music - video clip icomos

26 febrero notificacion DECLARACION INTERES CULTURAL oficial desde icomos argentina hacia los trabajos multimedia del album real salamone music
24 - febrero al 31 marzo ambientacion sonora expo musica oficial seleccion audios cd Real Salamone Music para la Exposicion fotos de Marcelo Merlo Planeta Salamone en locaciones Salamone obras inaguracion 24 de febrero 11 hs Secretaria de Turismo de Carhue. lunes 27 febrero Epecuen y cierre Carhue expo hasta el 31 de marzo

07 febrero aviso de la postulacion y nominacion cd: real salamone music categoria mejor album conceptual premios gardel 2017 (codigo de postulacion para votaciones 2783)

24 enero nuevo video clip 2017 water and fire - cd duo kerssens - miniaci album editado 2015 house on the hill

02 enero radio metro 95.1 fm programa su atencion por favor nota alejandro miniaci acerca de su reciente cd real salamone music

__________________________2016_______________________________
23 diciembre
Revista digital de cultura Martin Wullich, portal de cultura y espectaculos
Cobertura-critica del recital presentacion, por German Serain
link nota
notas y links: 20 diciembre Nota Diario InfoEcos (Prov. Bs.As.)
link diario nota
16 diciembre Nota Radio Telam Salamone Cd
Acceso reportaje


16 diciembre 2016 importante gran lanzamiento nuevo album solista real salamone music
primer trabajo multimedia principalmente basado en la musica y su desarrollo audiovisual conceptual hacia la vida y obras del ingeniero arquitecto
francisco salamone - (more info link cds de este web site)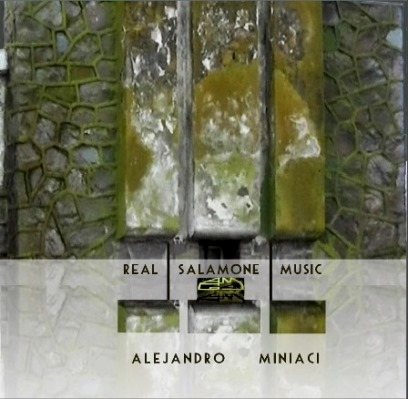 16 diciembre 23:00 hrs performance en vivo presentacion album real salamone music seleccion galeria de fotos del concierto:

15 Diciembre
Mencion Revista Brando clip: link video

17 noviembre nuevo avance audiovisual(fragmento) tema el exilio del genio acoustic version bonus video tema que forma parte del cd dedicado al arquitecto salamone

EXILIO DEL GENIO VERSION ACUSTICA HD

Comentario realizado por el productor de fm arpegio y fm milenium: German Serain sobre EL EXILIO DEL GENIO:
En version acustica, grabado en vivo, una composicion de Alejandro Miniaci , inspirada en la vida y la obra del arquitecto italo - argentino Francisco Salamone. Una novedad que muestra el alto nivel que puede alcanzar la musica ambient actualmente en la Argentina.
Mencion: Allegro HD Canal: muestra su profundo interes contactandose directamente mencionando muchos de los trabajos y este proximo material


15 noviembre nota sobre real salamone realizada por el diario laprida version foto:

12 Noviembre Nuevo Video estreno plazasalamone's dream con full images salamone locaciones

PLAZASALAMONE VIDEO

22 octubre David Bottrill
(tecnico de grabacion y productor de albumes de artistas como: peter gabriel - sylvian , eno , entre otros )
escucha avances de mi proximo album y trabajos anteriores envia mensaje acerca de mi material musical: thank q: Hello Alejandro. I think it's very beautiful music. Thank you for sharing it with me ! .


sabado 08 octubre 13:00hrs importante nota reportaje en vivo en la radio de las naciones unidas 94.9 fm sobre el proximo cd solista de AMGL y Novedad Anuncio fecha del lanzamiento del nuevo album Real #SalamoneMusic
audioVisual de este reportaje:

03 Octubre finalizacion diseño art cover , produccion y mezcla para el proximo album nro 11. exclusivo y conceptual "Real Salamone Music"
extension art imagenes galeria de fotos intervenidas zoom obras gallery by aminiaci.

03 Septiembre se completa la parte de grabacion musical del trabajo solista proximo a salir real salamone music el primer album de musica con 11 piezas instrumentales
escritas e inspiradas hacia las obras y la vida del arquitecto francisco salamone y edicion final de mezcla y art cover

02 Septiembre
comienza la seleccion temas de FROM power Project para un proximo album

17 AGOSTO FROM power trio cambia su nombre a: FROM power Project - objetivo profesional de autorenovarse y cambiar hacia sus futuros conciertos y trabajos desde un lugar mas abierto


04 julio presentacion del bloog cabeza de moog dedicado al mas reciente cd editado a.miniaci fuerza interna

02 julio Invitacion desde cultura ciudad de Laprida performance oficial adelanto en vivo del proximo album real salamone music en el centro de interpretacion francisco salamone - afiche oficial

09 junio presentacion del proyecto insersion de la cultura creado por alejandro miniaci expusto en el honorable consejo deliberante del partido de moron

05 junio grabacion nuevos temas prox album solista dedicado a las obras del arq:francisco salamone
y nueva galeria de art photos y clips locacion ciudad de azul para el album, intervencion y edicion by alejandro m.

29 Mayo - Fecha En Vivo From Power Trio Emergente Bar
19 Abril lanzamiento cd dueto frank kerssens alejandro miniaci the house on the hill album
16 marzo youtube new pieces and videos: prox CD solista real salamone music y videos from power trio live performance 11-03
11 marzo 23:00hrs
FROM power trio en vivo ! en el emergente seleccion live videos

FROM EMERGENTE LIVE CLIP

11 marzo 2016 album de fotos link (edicion a.miniaci fotografias veronica vazquez) *Clik en la imagen LINK GALLERY FROM LIVE

febrero estreno avance album CD kerssens - miniaci duet piece music the country of deception: frank kerssens melody voice letter alejandro miniaci: name piece - autor and recorder all instruments

nuevos temas para real salamone music cd prox album solista amgl y ensayos from power trio e inclusion de nuevos sonidos y temas.

28 enero postulacion y mencion del album Premios Gardel 2016 categoria: mejor album instrumental - fusion world music codigo de postulacion 388

27 enero el California Guitar Trio incluyo una version para su album y en vivo del tema (Dig a Pony - Beatles) Inspirada en mi arreglo a la afinacion New standard tunning grabacion en version instrumental acustica.
Paul Richard: mienbro del california guitar trio mensaje: When I heard your version of Dig a Pony by the Beatles, I was inspired to make an arrangement for the CGT. Thank you for your inspiration Alejandro my friend !- Paul

22 - 25 enero Steve Hackett (ex guitarrista de la agrupacion Genesis) mensaje personal enviado acerca del album Fuerza interna Hello Alejandro, I did reply to you after listening to your CD, which I enjoyed. Just keep going with your music! Very best! Steve.

enero continuacion del trabajo de composicion grabacion y edicion obras de proximo CD real salamone music
composiciones nuevos temas y ensayos de ensamble from power trio 2016
complecion mezclas del cd a distancia dueto: kerssens - miniaci
(mas recients actividades list selection)


________________________PERFORMANCES 2015______________________

23 Diciembre ESTRENO CLIPS Y NUEVOS TEMAS Y FORMACION FROM POWER PROJECT grabacion 14 diciembre en vivo en el estudio

____________________________________________________________

25 Noviembre relanzamiento luxe edition album fuerza interna 2015 replicado en fabrica y remasterizado (a la venta en todas las plataformas musicales)
PROMO ALBUM Video


18 Noviembre estreno clip extended version angel exterminador autor e interprete: alejandro miniaci avance prox cd 2016 Homenaje al arquitecto
31 de Octubre Live performance Alejandro Miniaci Guitar Loops Complejo Cultural Chacra de los Remedios Parque Avellaneda HD video live performance 31_10_2015
LINK LIVE VIDEO PARQUE

Album de fotos de la Performance link:


fotografias tomadas por veronica vazquez 31_10_2015 edicion produccion:a.miniaci
link live performance album fotos 31 10 2015




album de fotos performance link: fotografias tomadas por v. vazquez 10_10_2015 ediciones intervenciona rtisticas imagenes produccion by a.miniaci. link live performance album fotos 10 10 2015

Performance en vivo solista 10 octubre - promo video
LINK LIVE VIDEO AMGL


14 Septiembre galeria de fotos a miniaci backstage 2015 para cd album fuerza interna art cover interno y fotos para videos prox cd solista.
fotografias originales tomadas por veronica vazquez 07-09 -2015 en casa de retiros castelar siloe. edicion produccion:a.miniaci link:
LINK ALBUM FOTOGRAFICO backstage 2015


09 Septiembre tercer estreno Avance audiovisual conceptual album Solista AMGL"PLAZASALAMONE DREAM" HD A MINIACI: Autor e Interprete
fotografias por Veronica Vazquez locacion Casa de Retiro Castelar. A.M. Mezcla y edicion seleccion Audio videos para clip
02 Septiembre SEGUNDO ESTRENO Adelanto audiovisual para siguiente album Solista AMGL"REAL SALAMONE MUSIC"
MATADEROS ART DECO HD (VERSION CLASICA) A MINIACI: Autor y produccion interprete, Virtual Orquesta, Arreglos - Sonidos - Tratamientos Mezcla y edicion clip
LINK HD VIDEO MATADEROS SALAMONE


Agosto: continuacion trabajos de grabacion arreglos para temas dueto ALBUM Frank Kerssens y A Miniaci
Y Nuevos temas escritos y grabados para proximo ALBUM solista 2016 #SALAMONEMUSIC

05 Agosto ESTRENO Y Adelanto musica video para prox Cd Solista "REAL SALAMONE MUSIC" - ANGEL EXTERMINADOR HD- A MINIACI: Autor - Interprete
Guitars in NST - Bass - Industrial Destroyer Drums - sounds - loops efects.
LINK HD DARK FIRST VIDEO ANGEL


Julio variados ynuevos anuncios y trabajos: Prox album solista 2016 conceptual hacia en la vida y obras del arq Francisco Salamone
Luego de FUERZA INTERNA que se relanzara y se fabricara en el proximo mes. y pronto lanzamiento del album dueto: Frank Kerssens y A Miniaci.


18 Junio estreno D.EVOLUCION (VIDEO CLIP Carhue primer Homenaje al arq Francisco Salamone - pieza que cierra el album Fuerza Interna) A.M: Guitarras: Electrica, Bajo,Virtual Industrial Drums, Efects ,Sounds, Loops - Edicion de video recopilacion y texto incidental
LINK HD CLIP D.EVOLUCION


16 Junio VIDEO CLIP OFICIAL EDITADO REALIZADO POR EL DIRECTOR DEL FILM: MUNDO SALAMONE EZEQUIEL HILBERT VIDEOS EXTRA DEL FILM CON MUSICA de ALEJANDRO MINIACI FUERZA INTERNA VERSION CLASSIC Fragmento



6 Junio A.MINIACI GUITAR LOOPS EN VIVO Musica en el Escenario EN LA 13 FIESTA DE SAN ANTONIO DE PADUA Video en Vivo - Fragmentos de Temas
LINK CLIP LIVE IN PADUA


30 Mayo


1er ENSAYO FROM2015

26 Mayo MARTES ALEJANDRO MINIACI REPORTAJE EN RADIO LAREYNAZUL


25 Mayo lanzamiento del nuevo video clip HD DUET 2015 FOR THE JOURNEY



9 Mayo Session de Grabaciones en MF Records Para dos piezas del album Frank Kerssens - A.Miniaci. Temas:For the Journey: A.Miniaci Bass "Water and Fire" : A.Miniaci: musica y letra - Voz en parte final


LINK ALBUM FOTOGRAFICO SESSION FOR DUET CD


Mayo Produccion Edicion Mezclas y Videos album "House on the Hill" Frank Kerssens - A.Miniaci

Abril Trabajos de Regrabaciones Remasterizacion SUECIA Buenos Aires de cada tema del prox nuevo ALBUM Frank Kerssens - A.Miniaci

Marzo - Abril estreno nuevo VIDEO CLIP HD 2015 AQUI LLEGA LA VERDAD TEMA DEL ALBUM AMGL "FUERZA INTERNA"
LINK VIDEO LA VERDAD


Febrero y Marzo Realizando producciones sesiones arreglos Grabaciones a Distancia Suecia _Buenos Aires Frank Kerssens: Voz y Acoustic Guitar sounds. A.Miniaci: produccion -arrangements - Electric Guitar - Bass _Loops - efects para Nuevo album Dueto.
3 Febrero - Dig a Pony - Autor: John Lennon -Interprete A.MINIACI instrumental Guitars version- Grabacion: guitars -Bass voice, Harrison guitar, Melody voices armony all in Guitars new standard tuning by A.Miniaci DIC 2012 remaster febrero 2015



20 Enero The Last Day of Lights rare extended version 2015 Nuevas voces funk & ambient guitarras y bajo Autor Interprete Remezcla: A.Miniaci.



Enero - Febrero (FROM Summer *Audiciones y Ensayos)




________________________PERFORMANCES 2014______________________

27 y 28 Diciembre "A World Without Heroes" (instrumental acoustic version KISS Cover: A.Miniaci solista voces en guitarra acustica arreglos afinacion new standard tuning)



26 y 27 Diciembre
REEDITANDO REGRABANDO VERSIONES y News Bonus Tracks
projecto grabaciones A.M.& CIRCULO DE ALUMNOS DE GUITARRA grabaciones EN VIVO EN ESTUDIO: DIC 2012 VERSIONES DE TEMAS PROPIOS Y COVERS


23 y 24 Diciembre HD edicion del Canal oficial en youtube "miniaciloops"
11 Diciembre 22:00hrs nota en LOS ESPECIALES DEL GUARDIÁN DE LOS CIELOS ENTREVISTA MUSICA a ALEJANDRO MINIACI ARTISTA elegido DEL MES DICIEMBRE para este programa y radio.


28 Noviembre Nota en vivo Realizada Por Roxana Rey a Alejandro Miniaci sobre su discografia y nuevo album en Azulradio


27 Noviembre Nuevo bonus track fuerza interna album: "THE RHYTHM OF WATER"(con la voz real reportaje de Bruce Lee) Homenaje, Autor e Interprete produccion: Alejandro Miniaci Guitar, Instruments industrial drums- sound - efects- machines

11 Noviembre NOTA especial Realizada por Hugo Lagar REPORTAJE DE UNA HORA SOBRE LA DISCOGRAFIA SOLISTA DE Alejandro Miniaci
PRESENTANDO EL NUEVO CD FUERZA INTERNA programa EL GUARDIAN DE LOS CIELOS Y EL RETORNO DEL GIGANTE RADIO

20 Octubre NOTICIA AVANCE "COMING SOON" NUEVO VIDEO Fuerza Interna Classic version Realizacion Direccion BY Ezequiel Hilbert (Francisco Salamone BONUS Extra film Mundo Salamone con Musica Instrumental y Arreglos_Alejandro Miniaci


18 Octubre FROM POWER TRIO ENSAYOS


25 Septiempre LANZAMIENTO ALBUM FUERZA INTERNA ALEJANDRO MINIACI GUITAR LOOPS


9 Septiempre Avance audiovisual para el album prox a salir Fuerza Interna Video HD Clip "THE MOUNTAIN FROM THE SKY" Autor e Interprete Alejandro Miniaci Guitars - Bass - Piano -sounds -effects -produccion edicion.
THE MOUNTAIN VIDEO

30 Agosto Ensayos DE From Power Trio nuevos temas FROM 2014
12 Agosto Mezcla Bajadas Finales Nuevo Album Solista AMGL 2014(con MUSICOS invitados)

02 Julio -Session Recording GRABACIONES Mezcla Temas Prox NUEVO CD SOLISTA 2014 AUTOR E INTERPRETE: Alejandro Miniaci - Trabajo en Progreso (all right reserved)

LINK album photos recording sessions

08 Junio 20:30hrs Concierto en la Iglesia: Basilica Santa Rosa de Lima Cap.fed BS.ASAmbient Sounds en vivo Apertura: Alejandro Miniaci Guitar Loops


LINK ALBUM_FOTOS_PERFORMANCE_STA_ROSA

AMGL LIVE VIDEO FRAGMENTO PERFORMANCE BASILICA:
live LOOPS CLIPS in Sta Rosa

20 Mayo Grabaciones y Ediciones de Audio
para prox album Solista Avance Tema "Piloto de Guerra" (tema dedicado a Antoine de Saint Exupery. Autor Alejandro Miniaci: Guitarra, Loops, Machine Drums, efectos,produccion con Claudina. Pugliese en THEREMIN



"A MILLON LIGHTS MUSICLIVE"
26 Abril 22:AMGL en vivo en sr duncan Nuevo material - INVITADA Claudina. Pugliese en THEREMIN y efectos. A.M:VOZ,GUITAR LOOPS, live ELECTRONICS DRUMS samplers.

LINK26 ABRIL FOTOS PERFORMANCE EN VIVO SR DUNCAN



"A MILLON LIGHTS MUSIC LIVE" PERFORMANCE
Febrero - Marzo: composicion de Nuevos temas para prox Cd solista Grabaciones - Edicion de Audios. Nuevo integrate en bajo para FROM power Trio

28 Enero lanzamiento video avance album FUERZA INTERNA - INDUSTRIAL VERSION AUTOR INTERPRETE produccion by ALEJANDRO MINIACI: GUITAR - EFECTS
BASS AND INDUSTRIAL DRUMS - SOUNDS
FUERZA INTERNA CLIP VERSION ORIGINAL


Enero mezcla grabaciones FROM power trio en Kimono records Y EDICION VERSIONES DE PROX ALBUM F.Interna SOLISTA 2014


________________________PERFORMANCES 2013______________________
21 Diciembre Sabado FROM POWER TRIO GRABACION TEMAS EN KIMONO ESTUDIO - FUERZA INTERNA Y DIG A PONY(cover) HD VIDEO session (Operador Claudio Lafalce)
VIDEO HD RECORDING FUERZA INTERNA


15 Diciembre EN SCUMM BAR EN VIVO ALEJANDRO MINIACI Y CIRCULO DE ALUMNOS DE GUITARRA
VIDEO scumm


06 Diciembre Viernes en Sr. Duncan Caba. Buenos Aires Alejandro Miniaci Guitar loops Presenta nuevas obras de su prox album
Afiche Oficial AMGL at Sr Duncan


10 Noviembre El Templo Resto Bar. caba FROM POWER TRIO Presentando Nuevos temas VIDEO en VIVO!!
01 ZONA INCIERTA - 02 EJECTION - 03 FUERZA INTERNA (POWER TRIO VERSION)- 04 IMPROV in Bb

FROM LIVE CLIP

Septiembre y Octubre Ensayos de nuevos temas para From Power y Versiones AMGL prox album Solista

27 Agosto nota en FM 89.3 Radio Grafica e Internet Programa: Subi que te llevo Alejandro Miniaci Presenta novedades de FROM Power Trio y su album Solista Dark Emptiness
AUDIO REPORTAJE 27 AGOSTO


10 Agosto en: El Templo Resto Bar, C.A.B.A. FROM POWER TRIO en vivo
Integrantes: Patricia Gonzalez (Bajo)- Pablo Tiscornia (Bateria) y Alejandro Miniaci(Guitar Loops live Samplers)

_________________________________________________________________________________


_______________Alejandro Miniaci Trabajos Solista_________________
22 Julio Audios Adelanto "FUERZA INTERNA" Proximo album